Becoming the guru of yourself means being able to live a life with the lightness you deserve.
You become the witness of the strenght within the silence of the heart.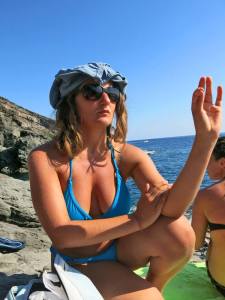 Some of us can decide to get to a therapist, time by time, to have a concrete help.
And here is an advice: if you are not seeing a psychologist or another kind of therapist, never make jokes about people that are in this path. It is indelicate and cruel.
Working hard on the self is a matter of having guts and wanting peace, seeking for self knowledge. Of course in some cases the client can develop addiction, but a good therapist will simply show directions and you use your own legs to walk forward.
In my case, my therapist is a regressive hypnosis expert
(I've never been attracted by regular psychotherapy made of words and theories, I like to dig into deep waters and it is what works out for me).
I was starting again to see her after some years. The very first time that I entered in her studio it was right after my dad died, and we've made together a one year path that has been so useful and powerful.
This year I've find myself in a period of deep self losing, the inner compass started making mess again, I was losing directions again, after heavy years (Saturn!). Falling deep in love but not happy about my life, giving shit to the lover and having it back, trying to change but having the same troubles inherited from the past.
And I got back to the studio, even because she has never been the "regular" therapist, but a special woman with a long experience, adding tarots to her scientific knowledge, using regressive hypnosis, theta healing and other energetic works. I do not want to say she is ok for everyone, she simply suits for my sensitive, complicated self. It is some months now that I've started again to see her, with our concept of regular sessions (she never forced me, it has always been normal to fell after the session if it was the case to stop for some weeks or not).
Then, suddenly, after not having my e-mail answered for almost one week, I had a call from a friend that is her client as well.
"Well, our therapist is at the hospital now. She's been hospitalized and it has been an emergency."
Silence. I did not know what to say. And I did not react. Just silence. And swallowing.
No panic, no fear, just a lot of surprise and a weird "Woah!" in my mind.
You never think it can happen to the person that is helping you digging inside yourself. But it can. And here is what you learn:
– You develop more strenght.
– You find a good will to not vomit your stuff on others (this is one of the risks of being in a kind of therapy…that you think all others are. They are not. And some of them really do not want to be considered so).
– You have time to think and write.
– You find yourself wishing for the therapist to get better for her or his own wellness, no attachment to the helper you see in her/him.
– You can lay the foundations for fake religions of any kind and laugh a lot. This will reconnect you to the inner child that simply wants to have fun. Be precise and accurate your fantasy while inventing new religions. And feel free to erase and rewind, inventing always something new.
– You can start thinking about the fact that we all are human beings and it is good to get back to this intuition time by time.
– You can experience self confidence with your own action.
– You can experience that abandon is not real, it is never real.
– You have the feeling you are really growing up. (Ok, never too much)
– You will secretly and deliciously plot a way to bring a present and a wish of good convalescence to your therapist.